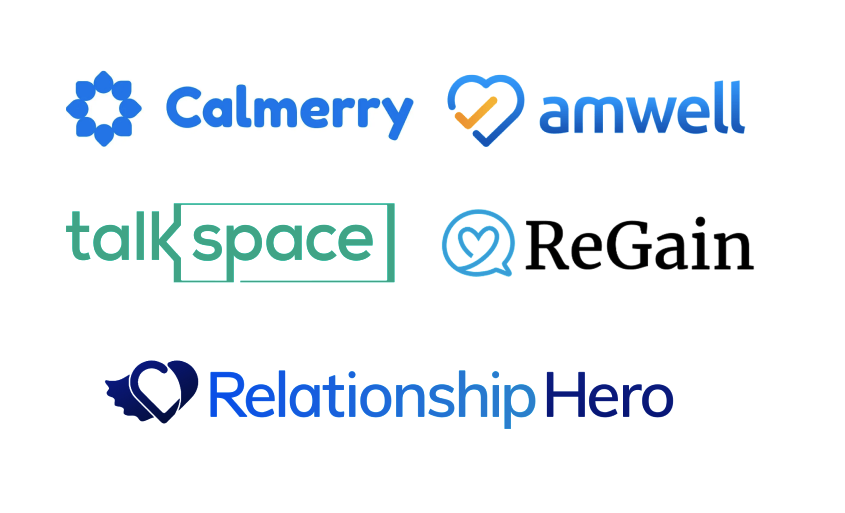 Today, psychotherapy is more accessible than ever. For many years, clients were required to visit a therapist in their office, but online therapy platforms changed the situation, enabling everyone to get professional support from virtually anywhere.
Not only does online therapy allow you to get help from home, but it is also a more flexible solution because clients can now squeeze therapy sessions into any schedule, no matter how busy it is.
When it comes to online therapy, there is also another, less obvious advantage: instead of opting for traditional therapy, which is often quite expensive, you can choose cheap online therapy and save some money while getting the same benefits.
In fact, many people consider online therapy because it's a cheaper option, so we decided to select the best cheap online counseling platforms. There are so many similar companies out there that it might be difficult for someone who's never used such services to choose the right one.
Here are our top picks selected based on the quality of services, convenience, and, of course, price. In this review, we attempted to answer a very important question: what is the cheapest online therapy platform providing quality care?
1. Calmerry

Calmerry is a convenient platform that offers high-quality, yet relatively cheap mental health services, matching clients with licensed therapists and counselors. On this platform, users can get help when dealing with various mental health issues, including anxiety, depression, grief, sleep disorders, anger issues, and stress. You may also choose this platform if you want to improve your relationships or struggle with low self-esteem.
Calmerry provides live video therapy and text therapy. The latter option is the least time-consuming, as you can reply to a therapist's text whenever you want. This way, you can text about your problems exactly when you feel like sharing, not just because it's time for a session. Therapists reply at least once a day — it's not a real-time chat so this option might be the right choice for those who want to work on their mental health at a moderate pace.
If you're looking for real-time conversations similar to traditional therapy sessions, you can opt for video chat therapy. Such a format is no different from in-person therapy. Meanwhile, your privacy is fully protected as sessions take place in a secure therapy space with a video chat room.
A great thing about Calmerry is that you don't need to choose between text and video therapy because you can get both options in one package.
Having a web interface and mobile apps, Calmerry offers not only talk therapy but also additional tools that can make therapy more effective. For instance, you can use a free mood tracking chatbot to see what experiences and thoughts impact your mood most.
Therapists
When choosing a cheap therapy online, it's very important to make sure that you'll be dealing with real professionals who have all the necessary credentials and experience. Calmerry has a team of qualified mental health experts, all of which are licensed in their states. All counselors and therapists have to pass a thorough screening process before they get to work with clients.
According to the Calmerry website, their team consists of licensed professional counselors (LPC), licensed master social workers (LMSW), licensed marriage and family therapists (LMFT), and licensed clinical social workers (LCSW). All mental health specialists hold Ph.D. or Master's degrees in their areas of specialization. Besides, all of them have at least 2,500 hours of clinical experience.
So, how much does Calmerry cost? This platform works on a subscription basis, and you can make weekly or monthly payments. The theCalmerry pricing system is indeed affordable, with pricing plans that start from $42 per week for text therapy and $52 per week for video therapy, billed monthly. The cheapest package features unlimited messages with daily responses from therapists. You can also choose a package that includes weekly 30-minute video sessions. Calmerry also regularly offers discounts for new users.
2. Amwell

Amwell is the biggest telehealth company in the U.S. where clients can get various kinds of medical help round-the-clock. Amwell's services can be accessed through a web interface or mobile app.
Perhaps, the main difference between Amwell and other cheap counseling websites is that mental health therapy isn't its main focus. This company provides all kinds of teletherapy so it's often used by people who need help with physical illnesses. However, you can also get mental health support here. Therapists provide counseling services for such problems as anxiety, grief, depression, bipolar disorder, addiction, etc.
Amwell offers online video sessions. Usually, such sessions last up to 10 minutes. You have to find an available therapist in the online scheduling system and choose a therapist with the necessary background and specialization. Besides, you can check out reviews from other clients. According to the company's website, you may need to wait for up to 14 days to get an online appointment.
Generally, Amwell prices are lower than when using traditional in-person therapy. This company, however, doesn't offer monthly or weekly subscription plans so you need to pay for each session separately. Therefore, this is definitely a more expensive option than subscription-based platforms.
The cost of a therapy session depends on the chosen therapist. Those with a better experience and credentials also have higher prices. On this platform, you can choose therapists with Master's and Ph.D. degrees. A session with a therapist who holds a Master's degree will cost you about $109, while sessions with therapists who hold Ph.D. degrees cost about $129.
If you need to talk to a psychiatrist, prepare to pay about $279 for the first visit and $109 for every follow-up. The prices don't change depending on the time that you choose for sessions, and Amwell doesn't offer any discounts.
3. ReGain

This is another cheap virtual therapy platform dedicated specifically to relationship and couple therapy. This is a convenient solution that allows you to access therapy through a web interface or mobile app. There are many licensed relationship counselors that can help you deal with various problems, including poor communication and conflicts.
ReGain offers messaging and video therapy, as well as an opportunity to make a phone call and talk to your therapist without video. To get started, you should fill out a quick survey and provide some personal information. Basically, you need to describe the issues that bother you, communicate your expectations from therapy, and describe your preferences regarding a therapist.
When it comes to online therapy, cheap options don't necessarily mean choosing price over quality. ReGain offers a good solution in terms of quality because its therapists have the necessary licenses. However, if your problems stretch beyond relationships, this platform is probably not the best option.
ReGain is cheaper than traditional in-person therapy, but its prices aren't the lowest. This is a subscription-based platform with packages that cost $60 to $90 per week. Unfortunately, this company doesn't offer any first-time discounts or free trials.
4. TalkSpace

TalkSpace is a popular cheap online therapy platform with a good reputation. It has a big team of licensed therapists and counselors, and it has already helped thousands of satisfied clients. However, not all reviews of this company are great. Some clients complain about copy-pasted replies from therapists. Besides, this company isn't certified by the American Telemedicine Association, which means that it isn't HIPAA-compliant.
Therapists
TalkSpace only hires licensed therapists that have at least 3,000 hours of experience. The company monitors and evaluates the performance of therapists on a regular basis. Here you can find therapists with all kinds of expertise so this platform might be helpful for people with various mental health issues.
There are three packages available for clients. For $65 per week, you can get unlimited text and video messages without live sessions. To add a 30-minute live session, you should buy a plan that costs $79 per week. There is also a package that features four live sessions, and it costs $99 per week. Unfortunately, there is no free trial available.
5. RelationshipHero

Unlike the cheapest online therapy platforms from our review, this one provides not therapy but coaching services. Besides, as the name suggests, its main focus is relationships, so it's not exactly the right option if you're dealing with depression, anxiety, or other mental health problems.
During the registration process, you have to complete a quick survey so that the company can find coaches that might help you. Generally, clients' issues fall into such categories as unhealthy relationships, dating, building attraction, cheating, etc. First, you should choose a category, and then answer a few questions.
Coaches
Before you decide to try Relationship Hero, you can check out the "About" section on the website to better understand what this company is and what services it provides. On the website, you can also find profiles of the coaches that work there and evaluate their qualifications and experience.
There is also a review section where you can check out reviews from previous clients. Although the company allows you to check profiles of coaches, this platform matches clients with them automatically.
Most of the coaches who work for this company have degrees in sociology and psychology. However, you won't be able to find licensed mental health specialists here, and this platform may only help you with some advice, without offering comprehensive treatment. All experts undergo training before they are allowed to work with clients.
When communicating with coaches, clients are charged per minute. You can opt for a 60-minute or 240-minute plan, and you can also purchase a monthly subscription. The basic 60-minute plan costs $75, and the 240-minute plan costs $300. A monthly subscription will cost you $79 per week. Besides, you can also choose a pay-per-minute plan, but it's the most expensive option.
Wrapping Up
So, here are some of the best cheap online therapy platforms with their pros and cons. If you're looking for a cheap online therapist, there are many options available so make sure to check out our reviews and testimonials from clients to make the right choice.
We can conclude that Calmerry is generally the best platform for cheap therapy sessions online if you're looking for high-quality care. Calmerry prices are affordable, and there is a great team of licensed therapists with clinical experience in different areas of mental health. If you're looking for prescriptions or want to talk to a cheap psychiatrist online, you can also try Amwell, but it's also a much more expensive service.
If you don't have any serious mental health issues and just want to get some advice on relationships, platforms like ReGain or Relationship Hero might help you, with ReGain having a more professional team.